Popular free zones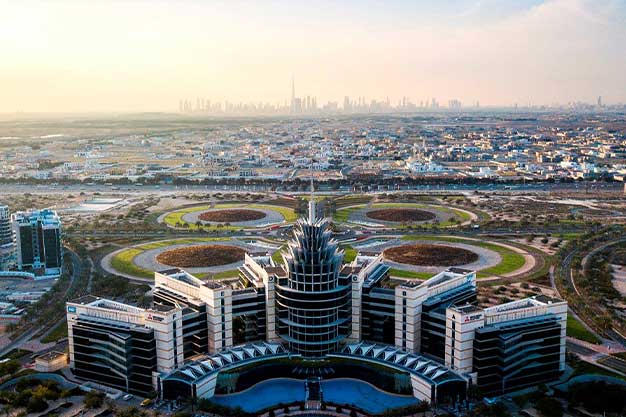 According to World Bank's annual ranking of the ease of doing business, UAE ranked 11th. UAE's government efforts and reforms helped in making the country attractive for local and foreign investors to set up their operations here. In the latest report from Dubai Investment Development Agency (Dubai FDI), 88 new foreign companies were attracted to Dubai this year.
Foreign entrepreneurs usually prefer to set-up their business in Dubai free zones. To operate as a free zone company entitles the owner on the following*:
100% company ownership
100% repatriation of capital and profits
Zero corporate and personal tax
100% import and export tax exemption
Low cost of operations
When looking for offices for rent in Dubai or warehouses, your choice of free zone will depend on your registered business activities. Being in the right zone gives you a fair advantage.
There are 45 free zones in the United Arab Emirates where the majority is located in Dubai.  Here are some popular free zones:
Airport Free Zone (DAFZA)
Adjacent to the Dubai International Airport, DAFZA is considered as one of the fastest growing free zones in the region, dealing with import and export trades and services.
Healthcare City (DHCC)
As the name suggests, DHCC welcomes businesses related to healthcare, medical education and research, pharmaceuticals, medical equipment, wellness and allied support.
Science Park
The region's first free zone community dedicated to supporting scientific entrepreneurs, SMEs and multinational enterprises.
Dubai Silicon Oasis
Popularly known as DSO, this free zone promotes modern technology-based industries with the urban master-planned community, state-of-the-art infrastructure and in-house business services.
Jebel Ali Freezone Authority (JAFZA)
JAFZA is home to more than 7,000 companies that range from trade industries to logistics infrastructure. Most warehouses for rent in Dubai or sale are found here.
Media City serves as a regional hub for media companies such as publishing and online media, news agencies, advertisers, broadcasting facilities, and production.
Dubai Design District (D3)
D3 is dedicated to the fashion industry as well as other types of professional design.
International Financial Center (DIFC)
DIFC is the leading financial hub for the Middle East, Africa and South Asia. It has its own independent, internationally regulated regulator and judicial system, common law framework, global financial exchange, tax-friendly regime, and a large business community.
Knowledge Park
The area serves as a sustainable hub for human resource and knowledge-based economy. It comes with programs that include HR management, training, consultancy, and personal development.
When looking for a Dubai property as your next business address, seek professional help from commercial Dubai real estate brokers will be your best partner. Rocky Real Estate is here to provide the necessary information you need to make the right decision. Call us or browse through our commercial property database today!
*Source: www.dsoa.ae , Nov2018